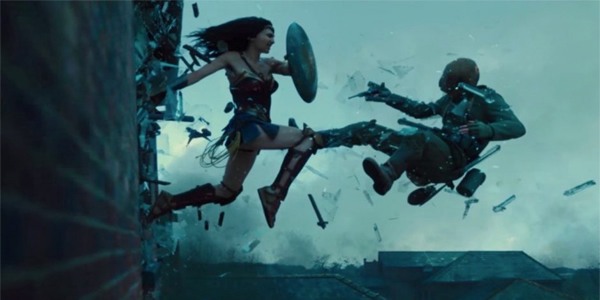 I recently began reading The Iliad for the first time. Having that in mind when I saw Wonder Woman was helpful in my appreciation of both works. The way Ares interacts with humanity in Patty Jenkins's excellent film—first subtly, then catastrophically—mirrors that of the gods of The Iliad, who bounce in and out of the affairs of men, sometimes at whim and sometimes with purpose.
The other lens through which I tried to watch Wonder Woman was as through the eyes of women. In this way several images from the movie stuck with me. Steve, the drowning dude in distress, seeing Diana standing atop his wrecked plane before she rescues him. Diana's glasses, thrust upon her in a winking attempt to de-glamorize her in Edwardian London, quickly and symbolically crushed during a back alley brawl. Steve's commanding officer, despite being handed the intelligence coup of Dr. Poison's stolen notebook, caring much more about—God forbid—a woman in the war room.
Not to mention the now iconic No Man's Land sequence, which I later learned brought many women to tears. What I found powerful about it, beyond the single-minded drive and badassery Diana shows in battle, was how it was the culmination of a day's worth of her being told No over and over again, and choosing to ignore it each time. No, you can't dress like that. No, you can't go to the front. No, you can't brandish your sword. No, you can't enter this men's-only room, or that other men's-only room. No, you can't stop to help people on the way to the front. No, you can't go into No Man's Land.
And most of this was from her ally Steve! Nevertheless, she persisted. When she finally deployed her powers in full force, all that naysaying seemed silly in retrospect. Of course she was the right person for the job. She was no man, and the better for it.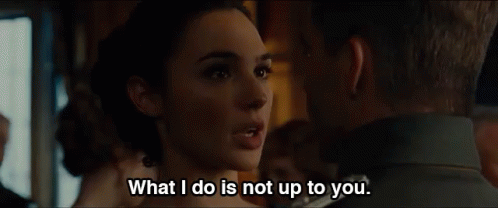 On top of her combat prowess, she later on develops keen insights about humanity, in spite of (or maybe because of) her outsider status. Her battle with Ares triggers a revelation that speaks to the depth of her inner character: that men are capable of great evil does not disqualify them from her protection; in fact, it seems to make her more resolved to provide it. "It's not about deserve," she tells Ares. "It's about what you believe. And I believe in love." It's an extraordinary thing for a superhero to say, especially within the bleak Zach Synder DC Universe.

(Her compassionate spirit, her dedication to doing the right thing, and compulsion to tackle challenges head-on reminded me of Chris Evans' Captain America. Both are alienated from their times—one due to cryogenic preservation and the other by her magical hidden island—and also are the rare superheroes to cry on film. It's a shame we won't see those two characters fight together anytime soon, but I'd be all for it.)

That it was a female superhero who brought love into the superhero's creedal calculus will no doubt rankle those who wish for Diana to upend the sexist assumptions of what a female should believe. (She still upends plenty.) But I didn't see it as the hokey platitude it is on the surface. I see it as an acknowledgement of love's deep meaning and the impact it makes upon us. However short her time was with Steve, it made an indelible impression on her and subsequently her worldview as a superhero. Pairing this experience with her incessant drive to do something when faced with injustice makes her a potent force for good in man's fallen world, and in the larger world of superhero movies.

This entry was posted in