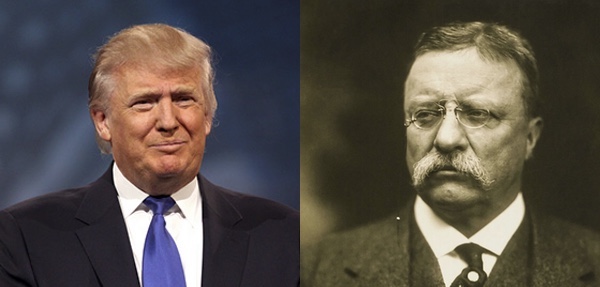 More than 100 years ago a Republican president worried that America wasn't doing enough to protect its most treasured wild and sacred places from over-development, mining and drilling. So Congress passed and President Teddy Roosevelt signed the Antiquities Act of 1906, giving presidents the authority to preserve imperiled mountains, forests, cultural treasures and other public lands. Roosevelt condemned the "land grabbers" and "great special interests" who threatened the national lands he protected. "The rights of the public to the [nation's] natural resources outweigh private rights and must be given its first consideration," Roosevelt proclaimed. "Our people should see to it that they are preserved for their children and their children's children forever."

Today another Republican president is indicating he is ready to give in to the pressures of corporations and complicit state officials urging the administration to open these protected public lands to mining, drilling and other commercial exploitation. That would deprive future generations of Americans of irreplaceable treasures, both in the beauty of the landscapes that would be scarred and the birds and other wildlife that depend on those protected places for survival.
Whether it's a good idea for Trump to revoke the protected status of lands designated as national moments is up for debate. (I'm against it.) But what interested me about this op-ed was its comparison of Trump to Theodore Roosevelt. It was negative in this case, but in Robert Merry's forthcoming biography of William McKinley, Roosevelt comes across as much more Trump-like than TR fans like me would care to acknowledge.
TR is one of my certified History Crushes™. Anyone who reads Edmund Morris' trilogy on the man's brief but crowded life can't help but admire him in some way. But there's no getting around the fact that Roosevelt was an attention whore. Many others have noted the similarities between the two New Yorkers, but here's Merry:
The biggest contributor to McKinley's standing in history was Theodore Roosevelt, whose leadership style could not have been further removed from that of McKinley. Impetuous, voluble, amusing, grandiose, prone to marking his territory with political defiance, Roosevelt stirred the imagination of the American people as McKinley never had. To [McKinley]'s solidity, safety, and caution, the Rough Rider offered a mind that moved "by flashes or whims or sudden impulses," as William Allen White described it. He took the American people on a political roller-coaster ride, and to many it was thrilling.

But the New Yorker was never one to share the credit with others. His theatrical self-importance led even his children to acknowledge that he wanted to be "the bride at every wedding and the corpse at every funeral." It wasn't surprising that soon he was denigrating the man whose presidency he had extolled through thousands of miles of political campaigning on his way to national power.
"A mind that moved by flashes or whims or sudden impulses," "theatrical self-importance," "prone to marking his territory with political defiance"—a little eerie, right? And the public denigration of his predecessor (and successor—poor Taft) certainly aligns with Trump's modus operandi.

The bull moose-sized caveat here is that Roosevelt was far more qualified for the job and did soooo much more—and so much more good—in his 60 years of life than Trump has (including actually wanting to be president). Ditto that other Trumpish president, Andrew Jackson. To put Trump in their league simply because they were all blustery fellows would be an insult to the presidency and even to other blustery fellows who are otherwise good dudes.

Nevertheless, it's good to remember that historical analogies are rarely clean, that we can't disregard unpleasant characteristics of beloved historical figures out of convenience, and that Roosevelt single-handedly chased down and captured three outlaws in Dakota who stole his riverboat and escorted them back overland in a forty-hour marathon with no sleep while finishing a Tolstoy novel.

This entry was posted in