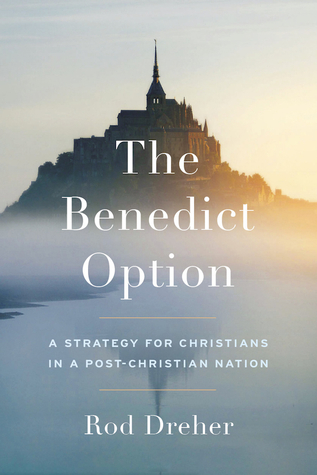 Perhaps it was because I had just finished reading Neil Postman's 1992 book Technopoly: The Surrender of Culture to Technology when I started in on Rod Dreher's latest, The Benedict Option: A Strategy for Christians in a Post-Christian Nation, but I was detecting a subtle yet strong Postmanian vibe throughout the book. Then, when Dreher actually quoted Technopoly, I realized that wasn't a coincidence.
First, a disclaimer: I am (briefly) in The Benedict Option. When Dreher put out a call on his blog for examples of Christian-run businesses, I emailed him about Reba Place Fellowship, the intentional Christian community that over the years has spun off church ministries into actual businesses, like a bicycle repair shop and an Amish furniture store. Months later, in a r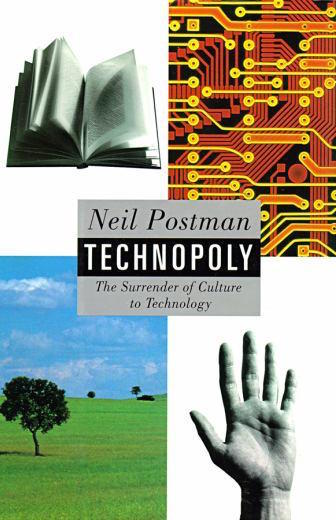 eply to my comment on one of his unrelated blog posts, he told me I was in the book, much to my surprise. And sure enough, on page 189 there was my name and a short paragraph adapted from my email about Reba.
I felt compelled to alert Dreher about RPF not only because I think they are a living, functional example of the Benedict Option in action, but also because I've followed Rod Dreher's blog for a while, really enjoyed his books Crunchy Cons and The Little Way of Ruthie Leming, and hoped his new one would contribute to the conversation about religious engagement in civic life.
The Benedict Option really does feel like the secular successor to Technopoly. The two books share a pessimism about the Way Things Are Now and a dire outlook of what's to come. Dreher's thesis is that Christians have lost the culture wars and need to reconsider their embedded relationship with the wider (Western) culture, in order to strengthen what's left of the Church before a new anti-religion dark age descends. This seems like a natural response to the trajectory of Postman's theory of the Technopoly, which he defines as "totalitarian technocracy" and "the submission of all forms of cultural life to the sovereignty of technique and technology."
Written 25 years ago, several passages in Technopoly would be right at home in The Benedict Option, like the one about the erosion of cultural symbols:
In Technopoly, the trivialization of significant cultural symbols is largely conducted by commercial enterprise. This occurs not because corporate America is greedy but because the adoration of technology preempts the adoration of anything else. … Tradition is, in fact, nothing but the acknowledgment of the authority of symbols and the relevance of the narratives that gave birth to them. With the erosion of symbols there follows a loss of narrative, which is one of the most debilitating consequences of Technopoly's power.
And Technopoly's hollow solipsism:
The Technopoly story is without a moral center. It puts in its place efficiency, interest, and economic advantage. It promises heaven on earth through the conveniences of technological progress. It casts aside all traditional narratives and symbols that suggest stability and orderliness, and tells, instead, of a life of skills, technical expertise, and the ecstasy of consumption. Its purpose is to produce functionaries for an ongoing Technopoly.
Technopoly offers so much more to unpack, much of it specifically related to technology and education, but another nugget I thought aligned very well with Dreher's Benedict Option is Postman's call for "those who wish to defend themselves against the worst effects of the American Technopoly" to become "loving resistance fighters." He defines a technological resistance fighter as someone who "maintains an epistemological and psychic distance from any technology, so that it always appears somewhat strange, never inevitable, never natural."

Religious resistance fighters don't "run for the hills" as critics of the Benedict Option would have it say. (Though Dreher does end the book with Benedictine monks in Italy literally running for the hills after an earthquake destroys their monastery—a reasonable action, but ironic given his frustration for the "run for the hills" criticism.) In fact, the work of resistance requires direct engagement within the larger cultural life. But it also requires deliberate and distinctive separation—if not physically, then spiritually, ethically, and intellectually.

Dreher bemoans the submission of churchgoers to the pressures of secular culture (i.e. the Technopoly), whether it's the now widespread acceptance of gay marriage, the rootless and self-interested browsing of different churches, or the unfettered access to technology parents allow their children. The principles in the Rule of St. Benedict, originally established for sixth-century monks cloistered away from the chaotic post-Rome Europe, offer a way for modern Christians to shore up their spiritual discipline while reconnecting with ancient traditions.

Most of his proposals (neatly summarized here) should not be terribly controversial among committed believers, though some, like pulling your kids out of public school, seem unduly influenced by his alarmism and are much easier said than done.

But that seems to be his point: Christianity isn't supposed to be easy. Monks don't join a monastery to sit around and avoid the world; they work hard! They take the claims and commandments of their Savior and Scripture seriously and endeavor to follow them.

Postman has been proven right. He didn't live to see today's wholesale surrender to smartphones and Silicon Valley's tech-utopianism, but he'd have a serious case of the "I told you so"s if he did. Whether Dreher's predictions for the demise of Christianity also come to pass remains to be seen, but you don't have to be a doomsday prepping zealot to realize that it is good to hope for the best while preparing for the worst.

This entry was posted in